The Best All-Inclusive Family Resorts
---
Family vacations are made easy and luxurious with all-inclusive resorts. With dining, amenities and activities to please kids and adults alike, these resorts are the perfect option for those seeking a stress-free getaway.
Windjammer Landing Villa Beach Resort
Families seeking a blissful Caribbean escape will love St. Lucia's Windjammer Landing Villa Beach Resort. Located on a gorgeous 64,000 square-foot white powder beach, the Windjammer has the feel of a Mediterranean village, with all the luxurious comforts of a premium all-inclusive resort. Even the largest families can enjoy a comfortable stay here, with huge accommodations providing full kitchens and spacious bedrooms, along with other amenities beneficial to those traveling with kids. Creating a family-friendly experience is of the utmost importance at Windjammer Landing Villa Beach Resort, with curated itineraries providing activities for all ages. 
The Verandah Resort and Spa
Antigua's Verandah Resort and Spa is a wonderful choice for families in search of both relaxation and entertainment. Situated on 30 acres of beautiful beach sand, The Verandah provides the height of relaxation, while offering enough activities to keep the younger set occupied. Playgrounds, movie nights, and dance parties are just a few of the options available for children and teens, while a separate adult pool and romantic dinner options provide more mature entertainment. Spacious accommodations are a must for family travelers, and The Verandah's Waterview Suites offer plenty of room in buildings resembling charming Caribbean cottages.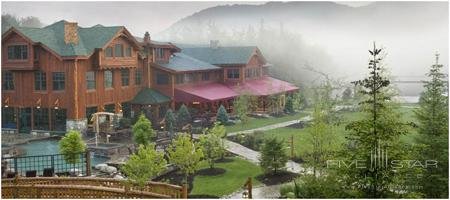 The Whiteface Lodge Resort and Spa
If an island retreat isn't right for your family, The Whiteface Lodge Resort and Spa offers a completely different all-inclusive option. Located in Adirondack Park's woodlands, the retreat is a New York destination that's attracted nature fans for many years. A six-million-acre recreation area provides plenty of activities for the whole family, including canoeing, paddle boating, ice skating and catch-and-release fishing. Make your evenings even more memorable with nightly campfires and trips to the old-fashioned ice cream parlor. The Whiteface Lodge is an especially wonderful family destination during the summer, when kids can participate in Kamp Kanu, a unique on-site program offering obstacle courses, treasure hunts, sports and more seven days a week.
Family Jacuzzi Suite at Azul Beach Resort Riviera CancunFamilies seeking a Mexican holiday are bound to love the Azul Beach Resort Riviera Cancun. The all-inclusive resort features a separate Family section to provide the best possible experience for those traveling with children. Located in the gorgeous Riviera Maya off the coast of the Caribbean Sea, the Azul Beach Resort provides the perfect combination of family-friendly fun and adult-oriented tranquility. Relax in large connected suites with beautiful ocean views, and dine at vibrant restaurants that offer family-friendly fare. Kids can also opt to eat with their favorite Nickelodeon characters, a popular feature amongst Azul Beach's youngest guests. Both adults and kids won't want to miss the rejuvenating experience of the Vassa Spa, a unique wellness space offering soothing treatments for guests as young as five.
---